National Federation of the Blind of Colorado 6 Dot Dash
Registration for the third annual 6 Dot Dash is now OPEN!
#comerunwithus October 1st through November 8th, 2020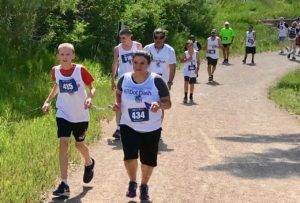 The National Federation of the Blind of Colorado 6 Dot Dash presented by Comcast is an annual 5k event to raise awareness and funds for the National Federation of the Blind of Colorado/Colorado Center for the Blind.  Your support helps provide Braille literacy and blindness skills training, scholarships for deserving blind students, summer camps for blind children, and more. The National Federation of the Blind of Colorado works on local, state and national levels "to achieve widespread emotional acceptance and intellectual understanding that the real problem of blindness is not the loss of eyesight but the misconceptions and lack of information which exist."
The National Federation of the Blind knows that blindness is not the characteristic that defines you or your future. Every day we raise expectations of blind people because low expectations create obstacles between blind people and our dreams. You can live the life you want; blindness is not what holds you back. The National Federation of the Blind helps blind people across the state of Colorado live the lives we want through:
World Class Adjustment to Blindness training at our flagship program Colorado Center for the Blind
Braille Enrichment for Literacy and Learning summer program for blind youth
Scholarship Program
Advocacy for blind people of all ages
Peer Support for individuals who are blind and low vision
Virtual Event Info and Schedule
Due to the COVID-19 pandemic, the 3rd Annual 6 Dot Dash has been transitioned to a virtual race. This means participants will be to able run, walk, or roll ANYWHERE and EVERYWHERE. Participants will be able to enter their result online. This year's virtual race offers a host of new adventures. In addition to the regular 5k, participants can track their progress across Colorado and teams will track their progress from coast to coast across the U.S.A. in the new Challenge format. Both competitions will feature mileage and famous landmark milestones!
Register as you normally would and instead of racing in person, you will be able to work out wherever you are comfortable. 
You will be able to register and enter your timed result online between October 1st and November 8th.  
Not happy with your time? Run/walk again and edit your result online.  
You can also track your progress with the Individual Challenge! 
Join a Team and track your progress across the USA!
On October 1st, Registered runners will receive an email with instructions on how to enter their result online.  You must select the option to receive this email during registration. 
Registration will remain open through November 8th. Don't miss out!
Online result questions can be sent to Tim from Runners Roost at raceservices@runnersroost.com.
Individual & Team Fundraising
The 6 Dot Dash is proud to announce Individual and Team Fundraising as an addition to this years race!  Form your team and compete against your friends to help raise the most money! 100% of the money raised will go towards helping the National Federation of the Blind of Colorado keep pursuing it's mission!
Individual fundraisers who are able to raise $100 will be refunded their registration fee!
 If you would like assistance registering as a fundraiser, reach out to assistance@nfbco.org.